Dana Bourgeois, master luthier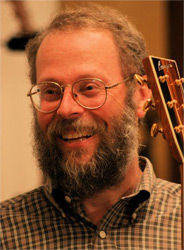 Dana Bourgeois is known around the world for his superb craftsmanship and also as one of the foremost authorities on the voicing, selection and utilization of fine acoustic tonewoods. Dana's reputation as a master luthier has brought people from around the world to our door for a chance to work in our shop. The small, tight-knit group of craftspeople are proud of what they do and work hard to build the best guitars they can.
Known for tonal excellence, meticulous craftsmanship, and top-notch materials, played by six-string luminaries such as Bryan Sutton, Ricky Skaggs, Sean Watkins, Doc Watson, Ray LaMontagne and countless professional and non-professional enthusiasts, Bourgeois guitars have played a prominent role in the American steel-string guitar renaissance for more than two decades, helping shape acoustic music's most recent rise in popularity. What makes Bourgeois guitars unique? Why do they sound the way they do? How did Dana Bourgeois evolve from a guitar-crazy teenager in the 1970's to become a recognized authority on tonewoods and instrument design? Let's have a look at the instruments' history, explore the concepts behind their designs, and learn how they're built.
Check out Dana about wood HERE